Deer Tick is back in town tonight, and they brought their friends from Portland, Sallie Ford & The Sound Outside! What better way to celebrate Mother's Day than to arrange a post-Brunch rendezvous on East Colfax with some quality American folk and alt-country jams; mom especially would love it.

Deer Tick released
Divine Providence
last year to critical acclaim from everywhere and everyone. Well not quite everyone; Pitchfork decried them for being borderline frat boys and bloggers labeled the Letterman appearance a borderline sellout. But the essence of Deer Tick is probably most genuine when they don't pander to what they should or should not be doing: which is why they are such a great act to see live. The group is no stranger to Denver, having recently played at the Larimer Lounge right after their album dropped and returning to Colorado back in March for the Snow Ball Music Festival in Vail.
Fresh from his release of an album from a side project called the Diamond Rugs, lead singer John McCauley is touring with the Tick on an extensive summer jaunt that will take them through major festivals, Canada and back to Providence for an outdoor festival of sorts dubbed "Dudesmash". When do these fellas get a moment to breathe? I'm not sure, but we're lucky to see them as much as we do. A new press campaign has the group selling lawn signs for a faux-election that would see Deer Tick get your vote in 2012. It's a brilliant way to add a "God Save the Queen", punk-rock twist the group's trek across North America, as they most likely will be crossing paths with presidential candidates along the way.
Also playing tonight will be the delightfully refreshing Sallie Ford & The Outside Sound, whose jazz-infused rockabilly music give way to Ms. Ford's amazing vocals. This group hails from Portland, OR and released their first full-length album,
Dirty Radio
, just last year with their second slated to be out this fall. The band is represented by Partisan Records, the independent label that manages Deer Tick and McCauley's Diamond Rugs, as well.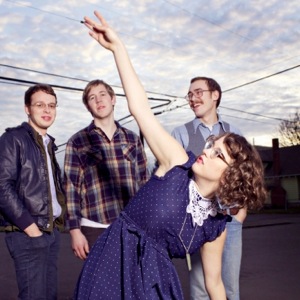 Check out the details for the show tonight at the Bluebird Theater on
their website
- Doors are at 7:00 PM and the show starts at 8:00 PM